CSR & Governance
Show me:
Information Technology - Governance of IT for the Organization
BS ISO/IEC 38500
Author:

BSI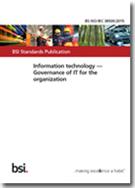 Add to Basket
BS ISO/IEC 38500 gives practical guidelines to help directors of organizations and enterprises to use Information Technology - such as computer hardware and software - effectively in their business. This standard applies to the governance of all management processes that relate to information and communication technology services in organizations. By providing best practice recommendations, the British Standard helps to inform and guide employers and personnel responsible for the design and implementation of management systems, including governance policies, processes and supporting structures.
BS ISO/IEC 38500 sets out the principles to use Information Technology effectively and acceptably. By following these guidelines, directors can balance risks more efficiently, while making the most of new opportunities. This standard presents a framework for good corporate governance of information technology. Other topics include responsibility, strategy, acquisition, performance and conformity.
Find similar publications here: