Accessibility
Show me:
BS 7000-6:2005 Design Management Systems. Managing Inclusive Design. Guide
Author:

BSI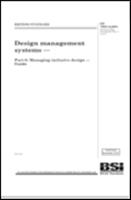 Add to Basket
Inclusive design is comprehensive, integrated design which encompasses all aspects of a product used by consumers of diverse age and capability in a wide range of contexts.
BS 7000 Part 6 is the British Standard that is a part of the BS 7000 series on Design Management Systems and this part provides guidance on managing inclusive design at both organisation and project levels.
This standard is relevant to all types of products and services, and to the business processes involved in their creation, fabrication, delivery and sustenance in the market, throughout the product's lifecycle from conception to final disposal, including management of obsolescence. It applies to all levels of staff and management in all types of organisations operating in the manufacturing, process, service and construction industries, as well as in public and not-for-profit sectors.
This provides a strategic framework and associated processes by which business executives and design practitioners can understand and respond to the needs of diverse users without stigma or limitations.
Find similar publications here: