HIV/AIDS
Show me:
HIV/AIDS in the South-East Asia Region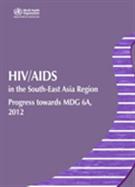 Add to Basket
This progress report presents the current status of HIV/AIDS in the South-East Asia region based on the latest surveillance and programme data reported by Member States. Data are complemented by research findings as appropriate. The report highlights the progress made in prevention and control of HIV in the Region with an overview of strategic information systems and lists the challenges and future priorities.
The information in this report would be useful to a wide audience including HIV programme manager in the Region and around the world, policy-makers and other stakeholders as well as researchers, in the field of HIV/AIDS.
Find similar publications here: