Weapons & Equipment
Show me:
Colours and Markings of Hellenic Spitfires 1943-1954
White
Author:

Korellis, John Panagiotidis, Tilemahos

Publisher:

Mushroom Model Publications - Wydawnictwo STRATUS, Artur Juszczak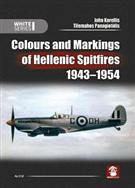 Add to Basket
The Hellenic Air Force performed valiantly against the Axis forces during the Battle of Greece but overwhelming odds forced its remaining personnel to escape to Egypt. With the assistance of the RAF, the Hellenic Squadrons were formed empowering the Greek pilots to continue their fight. From Palestine, Egypt, Libya and Italy until their victorious return to their homeland, Greeks flew several aircraft but one remained a favourite - the graceful Spitfire! This book examines for the first time all the Spitfire types that served with the Hellenic Fighter Squadrons, from the Mk.V starting in 1943, to Mk.IX and XVI in service until 1954. Brief details of their service use is provided as well as in depth examination of colours and markings used, based on many photographs, historical archive documents, illustrations and veteran testimonies. An invaluable source of information for aircraft enthusiasts, history researchers and aviation modellers.
| | | | |
| --- | --- | --- | --- |
| Extent | 200 pages, Full clr artwork, b&w photos | ISBN | 9788365958204 |
| Size | N/A | Price | £25.00 |
| Format | N/A | Published | 19 Jan 2019 |
| Availability | Usually dispatched within 1 - 4 weeks | Delivery | Delivery options and charges |
Find similar publications here:
Military & Warfare
Society

Show all Subjects & Categories