Weapons & Equipment
Show me:
From Scapa to Jutland: The story of HMS Caroline at war from 1914-1917
Author:

Allison, John

Publisher:

Colourpoint Books - Colourpoint Creative Ltd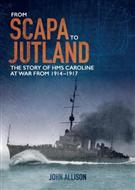 Add to Basket
Amid the twists and turns of her survival to this day, the story of the light cruiser HMS Caroline spans a century and more. This book focuses on her early career, the role she played as just one of many components making up the Grand Fleet in time of war. We look at her routine participation in contraband control and, most dramatically, her appearance at the Battle of Jutland, when providence smiled upon her and guaranteed a safe emergence from that intense cauldron of explosion and fire. How does the life of a warship usually finish if it is not sunk in action? It can be the sad destiny of great warships to find themselves one day `surplus to requirements'. They might have performed gloriously in battle in defence of the realm. They might have made headlines by saving life where natural disaster strikes. Yet still the breaker's yard beckons. Most men-of-war become out of date, too costly to run, as their usefulness wanes. However, some ships find a last minute reprieve by being sold to foreign countries. And yet a very special few survive in home waters for future generations. Among these is HMS Caroline.
Find similar publications here:
Military & Warfare
Society

Show all Subjects & Categories