Psychological Methodology
Show me:
Leadership, Work, and the Dark Side of Personality
Author:

Spain, Seth M.

Publisher:

Academic Press Inc - Elsevier Science Publishing Co Inc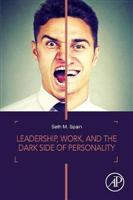 Add to Basket
Leadership, Work, and the Dark Side of Personality uses an interpersonal psychological perspective to unite general theories of both personality and leadership. By focusing in on the interpersonal, the book characterizes social behaviors by their agency (how dominant they are) and by their communion (how relational and nurturing they are). It argues that these interpersonal dimensions align closely with the traditional structure of leader behaviors-both task-related and relationship oriented behaviors-and uses those frameworks to orient trait theory for both normal-range personality traits and subclinical (dark side) traits. After overviewing the history of leadership theory, reviewing normal range personality traits (Extraversion, Neuroticism, Conscientiousness, Agreeableness and Openness) and subclinical traits, such as the Dark Triad (Narcissism, Machiavellianism and Psychopathy), the book moves on to thoroughly bring the perspective of interpersonal psychology to bear on questions of personality and leadership, and ends by narrowing in on how the dark side of personality affects the leadership process-for better and for worse.
Find similar publications here:

Show all Subjects & Categories