Ethical Issues & Debates
Show me:
The Sex Economy
The Gendered Economy
Author:

O'Connor, Monica

Publisher:

Agenda Publishing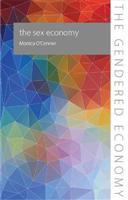 Add to Basket
The discourse surrounding prostitution is increasingly one of sexual commerce, transaction and commercial exchange. The "sex economy" and the consumer demand for it is often discussed both as a legitimate economic business, in which women have control, and as employment comparable to other forms of low-paid work. So much so, that in some countries it is being seen as a service that should be regulated and given a labour-rights framework. Drawing on extensive and detailed research, Monica O'Connor challenges the suggestion that the sale of women's bodies as commodities can ever be acceptable, and that the male consumer has an acceptable right to buy sexual acts from another person. She disproves the claim that "sex work" is a lucrative occupation for impoverished women and girls that can be considered for regulation as part of the normal economy. She lays bare the harm that "normalising" the sex trade does on women's lives, gender equality and on society as a whole, and exposes the realities that constrain and control women locked in prostitution, debunking the notions of choice and agency.

Show all Subjects & Categories