Finance & Services Committee
Show me:
The Future of Cheques
HC 1147, Eighteenth Report of Session 2010-12 - Volume I: Report, Together with Formal Minutes, Oral and Written Evidence
Author:

House of Commons - Treasury Committee

Publisher:

TSO (The Stationery Office)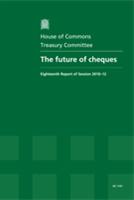 Add to Basket
'The Future of Cheques (HC 1147)' reports the Treasury Committee's belief that the industry-dominated Payments Council should no longer have the unfettered power to decide the future of cheques, or other payment methods that directly affect millions of people.
Responding to concern from the general public and the Treasury Committee, the Payments Council announced on 12 July 2011 that cheques will continue for as long as customers need them and that the target for possible closure of the cheque clearing in 2018 had been cancelled.
The Committee welcomes this belated decision of the Council to retain cheques, but warns the Council to ensure that the banks do not attempt to abandon cheques by stealth, nor deter customers from using cheques.
The report recommends that:
The Treasury make provision in the forthcoming Financial Services Bill to Bring the Payments Council formally within the system of financial regulation.

A commitment from the banks should be given to the Payments Council that the Council will receive advanced sight of any material relating to the future availability of cheques that the banks send to their customers.

All banks should write to their customers stating that cheques will continue to be in use for the foreseeable future.

There should be an investigation into the reintroduction of the cheque guarantee card.

Changes to the composition of the Board of the Payments Council should be made in order to significantly strengthen the voice of consumers.
Find similar publications here: