Lords Select Committees
Show me:
Scotland Bill
HL 59, Sixth Report of Session 2015-16
Author:

House of Lords - Select Committee on the Constitution

Publisher:

TSO (The Stationery Office)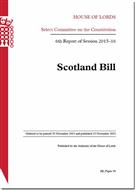 Add to Basket
'Scotland Bill (HL 59)' examines the contents of the Scotland Bill 2015-16 (see below), which is due its second reading in the House of Commons on 29 November 2015.
The Bill contains a number of provisions of the highest constitutional importance. In affirming the permanence of the Scottish Parliament and Scottish Government and declaring that they are not to be abolished except following a referendum in Scotland, and in giving statutory recognition to the Sewel convention, the Bill carries potential implications for Parliament's own sovereignty. At the same time, the Scottish Parliament acquires control of its own composition and electoral system.
Significant tax powers are devolved in the Bill, particularly in relation to the rates and bands of income tax, and a significant share of VAT receipts to the Scottish Government is allocated.
Powers in relation to welfare benefits are devolved for the first time, and amendments tabled at report stage in the Commons significantly expand the reach of these powers.
The Scottish Parliament and Government acquire new powers in policy areas such as employment, transport, energy efficiency, fuel poverty, and onshore oil and gas extraction, and authority in relation to a range of public bodies.
They will also have competence over the Crown Estate, equal opportunities and abortion policy, plus many other public functions; while almost all Tribunals will be devolved.
Find similar publications here: