Work & Pensions Committee
Show me:
The efficiency savings programme in Jobcentre Plus: second report of session 2005-06: Vol. 1 Report, together with formal minutes
House of Commons papers 834-I 2005-06
Corporate Author:

Great Britain Parliament House of Commons Work and Pensions Committee

Author:

Terry Rooney (chairman)

Publisher:

TSO (The Stationery Office)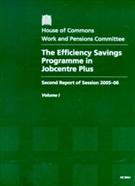 Add to Basket
During the past two years Jobcentre Plus has faced considerable upheaval in trying to accommodate both organisational change and meet the DWP target for efficiency savings (which requires the loss of 15,000 staff by March 20008). This report looks at how these changes have affected the ability of the Agency to meet its objectives in relation to: employment and training programmes; the capacity and role of Personal Advisors; the performance of the Customer Management System; the principles behind and the performance of Contact Centres. It concludes that too much was attempted too quickly, the planning and IT processes were not up to the job and service levels suffered. As a result Jobcentre Plus failed one of the tests of the Gershon programme that service quality should not deteriorate as a result of the efficiency process.
Find similar publications here: