Work & Pensions Committee
Show me:
A New Deal for Welfare: Empowering People to Work
Cm. 6730
Author:

Department for Work and Pensions (DWP)

Publisher:

TSO (The Stationery Office)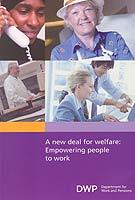 Add to Basket
This Green Paper, 'A New Deal for Welfare: Empowering People to Work (Cm. 6730)', sets out the Government's proposals for welfare reform, including proposals for incapacity benefit claimants, lone parents and older workers, in order to achieve an 80 per cent employment rate for people of working age.
Proposals to reform incapacity benefit include the introduction of:
a new benefit called Employment and Support Allowance (ESA), to replace incapacity benefit, with an enhanced employment support element;

revised medical assessments which focus on ability and support needs rather than incapacity, to be completed in 12 weeks in most cases; and

mandatory work-focused interviews supported by a mandatory action plan for return to work activity for new and existing claimants.
Other proposals include a £360 million roll out of the Pathways to Work scheme across the country by 2008 (currently being piloted in seven areas); piloting a new work-related activity premium for lone parents on income support benefit and increasing the frequency of work-focused interviews; improving support for jobseekers over 50 years and working with employers to extend flexible working arrangements.
Find similar publications here: