Work & Pensions Committee
Show me:
Incapacity benefits and pathways to work: third report of session 2005-06: Vol. 1 Report, together with formal minutes
House of Commons papers 616-I 2005-06
Corporate Author:

Great Britain Parliament House of Commons Work and Pensions Committee

Author:

Terry Rooney (chairman)

Publisher:

TSO (The Stationery Office)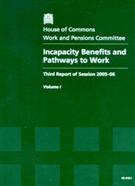 Add to Basket
The Committee's report examines the Government's proposals for welfare reform set out in its Green Paper 'A new deal for welfare: empowering people to work' (Cm 6730, ISBN 0101673027) published in January 2006. The proposed reforms are designed to help more ill or disabled people move into employment, thereby reducing the number of people claiming incapacity benefits by one million within a decade. Issues discussed include: the future rollout of the 'Pathways to Work' scheme; the introduction of a new benefit called Employment and Support Allowance (ESA) to replace incapacity benefit from 2008; support for ill or disabled people to move back into work; employer attitudes; the involvement of healthcare professionals; the role of the private and voluntary sectors; the costs and resources for the reform programme. The Committee welcomes the Government's aim to reform the welfare system in order to help support more ill or disabled people move back into work, but argues that if its reform programme is to be successful it will need adequate resources, particularly over the next few years, and further detailed work in co-operation with key stakeholders including employers and disability organisations.
Find similar publications here: