Treasury Committee
Show me:
Autumn Statement 2014
HC 870, Ninth Report of Session 2014-15 - Report, Together with Formal Minutes Relating to the Report
Author:

House of Commons - Treasury Committee

Publisher:

TSO (The Stationery Office)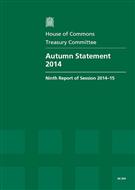 Add to Basket
The report 'Autumn Statement 2014 (HC 870)' examines the publication of 2014's Autumn Statement, in preparation for the delivery of March 2015's Budget.
HM Treasury has again been unable to provide all the information needed by deadlines agreed with the Office for Budget Responsibility (OBR). Repeated delays in the supply of information to the OBR would set an undesirable precedent. The work of the OBR depends on HM Treasury meeting the agreed deadlines.
The Committee welcomes the OBR's innovation of providing uncertainty ratings for policy costings, and recommends in future that the OBR publish a breakdown of the uncertainty rating assessment against the three criteria for all announced measures at Autumn Statements and Budgets.
Continued publication of the distributional analysis of the Government's policy changes is also welcomed by the Committee; the next Government should continue with this important aid to transparency.
Currently, the inflation target set by the Government is symmetrical, and is 2% at all times. The Chancellor has publicly welcomed the current level of inflation. This is not likely to help anchor inflationary expectations.
The Governor of the Bank of England is required to write to explain to the Chancellor why inflation has fallen below 1%. It is important to avoid mixed messages on inflation targeting.
Research should be undertaken by the Bank of England on the effect of net migration, and the potential for future net migration, on the supply of labour and wage growth as part of the work on meeting the Monetary Policy Committee's remit. The Treasury should ensure that discussions within Government on immigration policy fully consider the requirements of the economy.
Find similar publications here: