Trade & Industry Committee
Show me:
Small Nuclear Power
HC 347, Fourth Report of Session 2014-15 - Report, Together with Formal Minutes Relating to the Report
Author:

House of Commons - Energy and Climate Change Committee

Publisher:

TSO (The Stationery Office)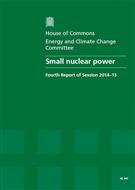 Add to Basket
The report 'Small Nuclear Power (HC 347)' examines the viability of introducing Small Modular Reactors (SMRs) to provide nuclear power in the UK.
SMRs are designed in a way that allows them to be manufactured at a plant and brought to site fully constructed. They have a range of useful applications, including industrial process heat, desalination or water purification, and other cogeneration applications. Potentially, they could have a key role to play in delivering low carbon energy at lower upfront capital cost compared to large conventional nuclear reactors but the commercial viability of SMRs remains unclear.
Deployment of SMRs is likely to be achieved through sharing the costs between the public and private sector. The Committee would like to see the Government steering industry towards deploying a demonstrator SMR in the UK. Government should help to establish the right conditions for investment in SMRs, for example through supporting the regulator to bring forward approvals in the UK, and by setting out a clear view of siting options.
Many of the barriers to deployment of SMRs in the UK are similar to the challenges of deploying larger conventional reactors. Small nuclear reactors will also generally raise similar questions of safety and security to those raised by large nuclear reactors. The Office for Nuclear Regulation also needs to be adequately resourced.
In the longer term, Government should identify and help to establish future sources of commercial finance for the further development and industrialisation of SMRs. While current SMR designs have been predominantly developed outside the UK, there is scope for British industry to develop intellectual property and play a role in the deployment of the first SMRs.
Find similar publications here: