Trade & Industry Committee
Show me:
Adult Numeracy And Literacy
HC 557, Fifth Report of Session 2014-15 - Report, Together with Formal Minutes Relating to the Report
Author:

House of Commons - Business, Innovation and Skills Committee

Publisher:

TSO (The Stationery Office)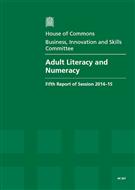 Add to Basket
In light of an OECD survey of 24 countries ranking England and Northern Ireland 22nd for literacy and 21st for numeracy, the report 'Adult Literacy And Numeracy (HC 557)' finds that a more joined up Government approach is needed to tackle the problem of low levels of adult literacy and numeracy.
While the Government pledges free training and tuition for any adult who wishes to study English and maths up to and including GCSE level, adults with the most limited skills were not aware of the support available. There is little rigorous or uniform assessment in place for when adults claim unemployment benefit, despite the fact that this is an ideal opportunity to help adults to gain essential skills needed to get a job.
The Department for Work and Pensions, the Department for Business, Innovation, and Skills, Jobcentre Plus and skills providers should work closely to ensure there is consistent and thorough assessment of skills at the earliest possible stage of unemployment benefit claims.
The Committee urges a more flexible approach to adult learning, both in the types of programme on offer and in the types of funding given by the Government. There is also concern about reductions in funding to adult learning schemes, and the Government is advised to reverse its decision to cut funding to Unionlearn, a scheme which has achieved outstanding results at a fraction of the cost of full-time formal education.
The Government should also move away from its preoccupation with GCSEs as the gold standard of measurement.
Find similar publications here: