Trade & Industry Committee
Show me:
Keeping the door wide open: Turkey and EU accession seventh report of session 2007-08: Vol. 1 Report, together with formal minutes
House of Commons papers 367-I 2007-08
Corporate Author:

Great Britain Parliament House of Commons Business and Enterprise Committee

Author:

Peter Luff (chairman)

Publisher:

TSO (The Stationery Office)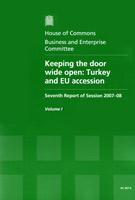 Add to Basket
In late 2005 Turkey began accession talks with the European Union. It now seems that some EU member states consider Turkish accession inherently undesirable. The Committee strongly supports the United Kingdom Government's position that Turkey's accession to the EU offers potential benefits for both sides. This not to underplay the difficulties and obstacles. The Irish "No" vote in the referendum on the Lisbon Treaty has led some European leaders to say there can be no enlargement without institutional reform. Turkey itself has faced severe political and constitutional difficulties this year. The country has a relatively large economy, but GDP per capita still remains low and inflation high by developed country standards. Political and social reforms will be necessary. Migration from Turkey will need to be carefully managed. The conflict over Cyprus also has to be resolved. The Committee's fear is that the negative signals recently sent out by some EU member states will reduce the political will to negotiate. Suspending or frustrating the accession negotiations will signal to a moderate, democratic, secular state that it can never be part of Europe. Whatever the reasons given for any suspension, the belief in Turkey would be likely to be that the country could not join purely because the majority of its population is Muslim. That is not a signal the Committee believes should be given. Turkey is a large economy, in a key strategic position, with high growth rates, a young population (compared with current EU member states) and sizeable investment flows. Turkey needs to be reassured that, if it demonstrates its commitment to negotiation and reform, that commitment will be fully matched by the EU and that the door to membership remains wide open.
Find similar publications here: