Trade & Industry Committee
Show me:
The UK Steel Industry: Government Response To The Crisis
HC 546, First Report of Session 2015-16 - Report, Together with Formal Minutes Relating to the Report
Author:

House of Commons - Business, Innovation and Skills Committee

Publisher:

TSO (The Stationery Office)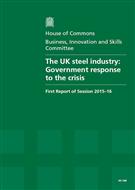 Add to Basket
The report 'The UK Steel Industry: Government Response To The Crisis (HC 546)' examines the Government's response to the current crisis facing the steel industry; and finds that it arose due to a combination of over production in the global market, a strong pound and low prices.
These recent pressures should be seen in the context of decades of declining production and employment in the UK, set against rising production of cheap steel elsewhere, notably China. The policy measures required to improve UK competitiveness are well established and broadly agreed but successive governments have not implemented them.
It was the closure of the SSI plant at Redcar in early October 2015 that prompted a more urgent reaction from the Government. Its initial response focussed on compensating those affected rather than seeing what could be done to save the plant. Since then, the Government has begun to address some of the issues required to improve the competitiveness of UK steel, for example, by changing procurement guidelines and bringing forward the full implementation of measures to compensate energy intensive users.
However, the impact of this activity will not be felt in the industry for some time and, in the meantime, production is permanently diminished. Even when fully implemented, these measures should not be seen as the long-term answer. Industry and government should work together to identify what a future UK steel industry might look like and then take the necessary steps to achieve this vision.
Find similar publications here: