Trade & Industry Committee
Show me:
Apprenticeships: fifth report of session 2012-13: Vol. 2 Oral and written evidence
House of Commons papers 83-II 2012-13
Corporate Author:

Great Britain Parliament House of Commons Business, Innovation and Skills Committee

Author:

Adrian Bailey (chairman)

Publisher:

TSO (The Stationery Office)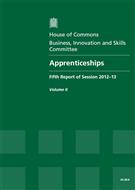 Add to Basket
Incorporating HC 1843-i to 1843-vi, Session 2010-12. Additional written evidence is contained in Volume 3, available on the Committee website at www.parliament.uk/bis.
Find similar publications here: