Trade & Industry Committee
Show me:
Apprenticeships
HC 83-I, Fifth Report of Session 2012-13 - Volume I: Report, Together with Formal Minutes
Author:

House of Commons - Business, Innovation and Skills Committee

Publisher:

TSO (The Stationery Office)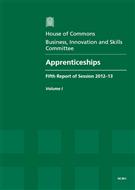 Add to Basket
'Apprenticeships (HC 83-I)' examines the Government's current apprenticeship programme, which could play a key role in resolving some of this country's most pressing issues; a wide-ranging, evidence-based report that carefully lays out the areas where the current model could better serve apprentices, their employers, or in many cases both.
Apprenticeship schemes can help us to create a more skilled workforce, to increase employment and to generate sustainable economic growth. For these reasons the Government has made apprenticeships a priority and has devoted significant resources to help them thrive, but money does not guarantee success.
The report the identifies evidence of:
excessive profits at the public's expense;

of a Government paying out too much money far too easily; and

of a lack of genuine value for money being provided by apprenticeship schemes.
The Committee recommends that the Government takes a more active approach in the future, and continually reviews the profit levels of training providers as an indicator of potential risks to efficiency.
Find similar publications here: