Trade & Industry Committee
Show me:
Scrutiny of arms export controls (2012): UK strategic export controls annual report 2010, quarterly reports for July to December 2010 and January to September 2011, the Government's review of arms exports to the Middle East and North Africa, and wider arms control issues first joint report of session 2012-13 second report from the Business, Innovation and Skills Committee of session 2012-13; fourth report from the Defence Committee of session 2012-13; first report from the Foreign Affairs Committee of session 2012-13; second report from the International Development Committee of session 2012-13: Vol. 1 Report, together with formal minutes
House of Commons papers 419-I 2012-13
Corporate Author:

Great Britain Parliament House of Commons Business, Innovation and Skills Committee

Author:

Sir John Stanley (chairman of the Committees' joint meetings)

Publisher:

TSO (The Stationery Office)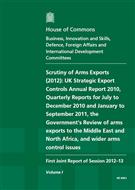 Add to Basket
The Committees on Arms Export Controls (CAEC) believe that the Government should apply significantly more cautious judgements on the export of arms to authoritarian regimes which might be used for internal repression. The Committees have scrutinised in unprecedented detail the Government's latest (2010) Annual Report on Strategic Export Controls (HC 1402, session 2011-12, ISBN 9780102973662), the Government's quarterly information on individual export licence approvals and refusals, and the Government's policies and performance on arms export controls and on arms control generally. The Committees conclude that the Government's review of its policies and practices on arms exports following the Arab Spring should not have been carried out merely as "an internal review" and should instead have been the subject of public consultation in accordance with the Government's stated policy of transparency on arms exports. And whilst the Government's introduction of a new licence suspension mechanism is welcome, this is not sufficient to ensure that arms exported are not used for internal repression overseas because in many cases the arms will have left the UK before suspension occurs. The Government should extend its arms export policy review from countries in the Middle East and North Africa to authoritarian regimes and countries of human rights concern worldwide. Annex 7 of the report gives selected arms export licence approvals by the Government to countries of human rights concern, and the report also contains details of the extant UK Government approved arms export licences to Argentina, Bahrain, Egypt, Libya, Saudi Arabia, Syria, Tunisia and Yemen.
Find similar publications here: