Standards & Privileges Committee
Show me:
Mr Tim Yeo
HC 849, Fifth Report of Session 2013-14 - Volume I: Report, Together with Formal Minutes and Appendices
Author:

House of Commons - Committee on Standards

Publisher:

TSO (The Stationery Office)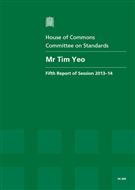 Add to Basket
The report 'Mr Tim Yeo (HC 849)' investigatesclaims made in two articles published by the Sunday Times on 9 June 2013. The articles detailed the results of a sting conducted by two reporters, Ms Heidi Blake and Mr Jonathan Calvert , who posed as representatives of a strategic consultancy recruiting a group of expert consultants to launch a solar technology developer.
In their article the reporters alleged that Mr Tim Yeo, the Member for South Suffolk, had told the reporters he could advocate for their company behind the scenes, introduce them to Ministers and guide them on submitting evidence to his own Committee.
Mr Yeo referred himself to the Commissioner, who decided to investigate whether he had breached the rules in that he had:
Offered to make approaches to Ministers and/or servants of the Crown on behalf of a company in which he expected to have a financial interest; and

Told the managing director of a company which was a subsidiary of a company in which he had a financial interest what to say when giving evidence to the Select Committee of which he was chair.
The Commissioner did not uphold either complaint. The Committee agrees with the Commissioner. Mr Yeo made no improper commitments, despite the tone of the Sunday Times articles, and the energetic attempts of the journalists concerned to draw him into doing so.
Media investigations can have a role to play in ensuring high standards of public conduct but in this case Mr Yeo has broken no rules and the only misrepresentation has been that of the journalists themselves.
Find similar publications here: