Standards & Privileges Committee
Show me:
Mrs Caroline Spelman
HC 316, Sixth Report of Session 2008-09 - Report and Appendicies, Together with Formal Minutes
Author:

House of Commons - Committee on Standards and Privileges

Publisher:

TSO (The Stationery Office)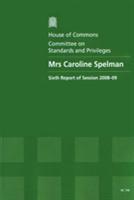 Add to Basket
On 9 June 2008, Mrs Caroline Spelman (MP for Meriden) asked the Parliamentary Commissioner for Standards to investigate the circumstances of the employment of a member of her staff from 1997 to 1999, following press reports that parliamentary allowances may have been misused.
The allegation is that Mrs Spelman subsidised the cost of nannying services out of her parliamentary allowances and that her administration assistant (Mrs Haynes) did not undertake secretarial or administrative duties to the extent for which she was paid.
The Commissioner conducted a most thorough investigation and has concluded that the arrangements entered into by Mrs Spelman with Mrs Haynes had the unintended effect of misapplying some of Mrs Spelman's parliamentary allowances for non-parliamentary purposes. In effect there was an element of cross-subsidy. The Commissioner has reached this conclusion on the basis of the high standard of proof adopted by him for this inquiry, i.e. that it is significantly more likely to be true than not to be true.
The Committee agrees with the Commissioner's conclusion that for two years from June 1997 Mrs Spelman paid Mrs Haynes a salary, from her parliamentary allowances, as her part-time administration assistant. This enabled Mrs Haynes to work also as her nanny without additional or separate financial reward. This had the effect of misapplying part of Mrs Spelman's parliamentary allowances. This breach, which occurred at a time when both the Rules and expectations were less stringent than they are now, was unintentional.
Mrs Spelman has accepted the Commissioner's findings and has agreed to pay back the misapplied sums.
Find similar publications here: