Public Accounts Committee
Show me:
General Practice Extraction Service
HC 503, Fourteenth Report of Session 2015-16 - Report, Together with Formal Minutes Relating to the Report
Author:

House of Commons - Public Accounts Committee

Publisher:

TSO (The Stationery Office)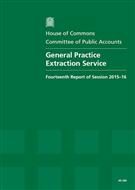 Add to Basket
The report inquiry will examine the procurement and development of the General Practice Extraction Service (GPES) system, the total expected cost of the GPES programme, which increased from £14 million to £40 million during planning and procurement, and how the capability of GPES can be used to provide a suitable data extraction service in the future.
The GPES is an IT system designed to allow NHS organisations to extract data from all GP practice computer systems in England. This data would be used to monitor quality, plan and pay for health services and help medical research.
The National Audit Office conducted an investigation into the service following concerns raised during a financial audit of the Health and Social Care Information Centre (HSCIC). The investigation found that the project had been delayed and only one customer, NHS England, had so far received data from GPES.
Mistakes in the original procurement and contract management contributed to losses of public funds, through asset write-offs and settlements with suppliers. However, the need for the service remains and further public expenditure is needed to improve GPES or replace it.
Find similar publications here: