Public Accounts Committee
Show me:
HM Revenue And Customs Performance In 2014-15
HC 393, Sixth Report of Session 2015-16 - Report, Together with Formal Minutes Relating to the Report
Publisher:

TSO (The Stationery Office)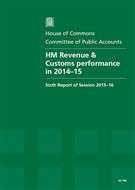 Add to Basket
The report 'HM Revenue And Customs Performance In 2014-15 (HC 393)' examines how well HM Revenue and Customs (HMRC) performed its work in 2014-15.
The Committee recognise the achievement of HMRC in increasing the amount of tax collected while also reducing its running costs over the last 5 years. However, it has made little or no progress on a number of important issues have been raised before.
Despite the Committee's previous recommendations, HMRC still does not report on how much cash was received as a result of its compliance work or on the scale of aggressive tax avoidance which exploits loopholes in the law. HMRC also continues to avoid publishing information on the scale and nature of tax reliefs that would assist Parliamentary oversight of this area of the tax system.
The standard of customer service also remains unacceptable. The Committee is particularly concerned by HMRC's failure in this area given that people are more likely to pay the right tax when they find HMRC easy to deal with. HMRC's work has also led to too few prosecutions of individuals for tax evasion and there is, therefore, no credible punishment to deter people from breaking the law in this manner.
Find similar publications here: