Liason Committee
Show me:
Select Committee Effectiveness, Resources and Powers
HC 697, Second Report of Session 2012-13 - Volume I: Report, Together with Formal Minutes, Oral and Written Evidence
Author:

House of Commons - Liaison Committee

Publisher:

TSO (The Stationery Office)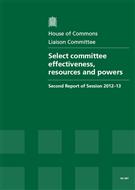 Add to Basket
Drawing on reports from committees, evidence from outside observers and academic research, the report 'Select Committee Effectiveness, Resources and Powers (HC 697)' concludes that two years after the general election and the Wright reforms, the evidence is broadly encouraging; although committees do face obstacles, there is still room for improvement.
The old doctrine by which ministers alone are accountable to Parliament for the conduct of their Department is being stretched to implausibility and there is a need for a changed approach.
The report recommends that the Government engage with the Liaison Committee in a review of the relationship between Government and Select Committees, with the aim of producing joint guidelines for Departments and Committees that recognise ministerial accountability, the role of the Civil Service and the legitimate wish of Parliament for more effective accountability.
Further recommendations for Committees include:
that they be forward-looking in scrutiny of departmental performance, devoting less effort to raking over the coals of past events unless there are lessons to be learnt;

give more attention to the financial implications of departmental policy and how departments assess the effectiveness of their spending;

experiment with different approaches to evidence-taking, broaden the range of witnesses and make more use of commissioned research; and

follow up recommendations to ensure that reports have impact, and report to the House at least once each Session on what has been done.
The Liaison Committee intends to ask the Backbench Business Committee for time for a debate in the House of Commons on a motion endorsing its conclusions and recommendations.