Environment, Food & Rural Affairs Committee
Show me:
Primates As Pets
HC 984, Eleventh Report of Session 2013-14 - Report, Together with Formal Minutes Relating to the Report
Author:

House of Commons - Environment, Food and Rural Affairs Committee

Publisher:

TSO (The Stationery Office)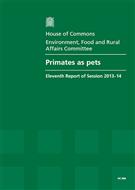 Add to Basket
The report 'Primates As Pets (HC 984)' concludes that urgent action is required to establish the numbers of primates kept in captivity by private individuals across the UK and to improve their welfare.
Little is known about the types and numbers of primates being kept or traded by private individuals in the UK and about the manner in which they are being kept. A ban is not ruled out, but such a step must be based on solid evidence and cannot be imposed before every opportunity to improve the operation of our existing framework has been exhausted. The Department for Environment, Food and Rural Affairs should commission independent research to establish the extent of the problems in this area and to report with a plan of action within six months of receiving the research results.
The Government must ensure that standards for primates kept in private match those required in zoos. The quality of care that these animals enjoy should be the same whether they are kept in a circus, a pet shop, a private home or a zoo. If the Committee's suggested changes prove insufficient and the evidence for doing so proves compelling, then a ban on the trade and keeping of privately kept primates should remain an option for the future.
The report also calls for the Government to:
ensure that legislation governing pet sales is fit for the internet age;

boost public awareness of existing regulatory controls and guidance;

increase the utility and efficacy of the Primate Code; and

expedite the publication of guidance to local authorities on the Dangerous Wild Animals Act.
Find similar publications here: