Environment, Food & Rural Affairs Committee
Show me:
Greening the Common Agricultural Policy
HC 170, First Report of Session 2012-13 - Report, Together with Formal Minutes, Oral and Written Evidence
Author:

House of Commons - Environment, Food and Rural Affairs Committee

Publisher:

TSO (The Stationery Office)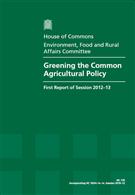 Add to Basket
The European Commission proposes that 30% of 'direct payments' made to farmers under the Common Agricultural Policy (CAP) should be conditional on compliance with three new 'greening' measures, 'Greening the Common Agricultural Policy (HC 170)' reports.
While supporting the Commission's desire to improve the environment, the Environment, Food and Rural Affairs (EFRA) Committee rejects the approach proposed. Instead it calls for the EU to set high-level objectives for the CAP that provide for flexibility to apply the right measures for local conditions through 'decentralising' environmental protection under the CAP to Member States.
This report highlights the huge benefit that UK 'agri-environment' schemes have brought to biodiversity, food production and the countryside. The Committee also urged the Department for Environment, Food and Rural Affairs (Defra) to ensure that the UK's tenant farmers would not be excluded from these schemes.
The Committee concludes that Defra must ensure the balance of funding between mandatory and voluntary aspects of the CAP does not leave UK farmers at a competitive disadvantage relative to their counterparts in the rest of Europe. MPs also warn that measures proposed by the Commission would be even more complex than the current system - adding costly bureaucracy and generating more errors in the system. Likewise, the Commission's crop diversification measure would in the UK have perverse consequences that are far less environmentally beneficial than crop rotation.
Of the three 'greening' measures offered, the Commission's proposal for Ecological Focus Areas (EFA) has the potential to deliver the greatest environmental benefit. However, the lack of definitions within the proposals make it difficult to assess what, if any, such benefits would actually be delivered.
Find similar publications here: