Environment, Food & Rural Affairs Committee
Show me:
Pre-appointment hearing: chair of the Water Services Regulation Authority (Ofwat) third report of session 2012-13: Vol. 1 Report, together with formal minutes
House of Commons papers 471-I 2012-13
Corporate Author:

Great Britain Parliament House of Commons Environment, Food and Rural Affairs Committee

Author:

Anne McIntosh (chairman)

Publisher:

TSO (The Stationery Office)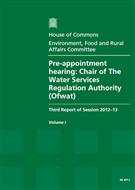 Add to Basket
The Committee hald a pre-appointment hearing with Mr Jonson Cox, the Government's candidate for the post of chair of Ofwat. It is satisfied that Mr Cox has the professional competence and personal independence required for the post, and encourages the Secretary of State to make the appointment.
Find similar publications here: