Defence Committee
Show me:
Helicopter Capability
HC 434, Eleventh Report of Session 2008-09 - Report, Together with Formal Minutes, Oral and Written Evidence
Author:

House of Commons - Defence Committee

Publisher:

TSO (The Stationery Office)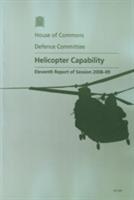 Add to Basket
This report, 'Helicopter Capability (HC 434)', finds that a shortage of medium and heavy lift battlefield helicopters is undermining current operations. The Committee is critical of the plan to extend the lives of Sea King and Puma to bridge the capability gap that will exist before the introduction of the Future Medium Helicopter in about ten years' time. Given the age of these fleets and the poor survivability of the Puma, extending their lives at considerable cost is not the best option, either operationally or in terms of the use of public money.
The Committee's conclusions and recommendations include:
Only a procurement of new helicopters can meet the original objective of reducing the number of types of helicopter in service within the UK Armed Forces.

The Committee praises the work of the Armed Forces personnel responsible for manning the helicopter fleet, but there is concern over the problems associated with manpower and harmony guidelines.

There is an imbalance in the frequency of operational tours between squadrons from each of the three Services.

The Report also notes the improvements in availability of key helicopters in theatre such as Chinook, which have benefited from closer working between industry and the Armed Forces.

Increased availability and improved maintenance, however, will be no substitute for additional capacity.