Defence Committee
Show me:
UK Land Operations in Iraq 2007
HC 110, First Report of Session 2007-08 – Report, Together with Formal Minutes, Oral and Written Evidence
Author:

House of Commons – Defence Committee

Publisher:

TSO (The Stationery Office)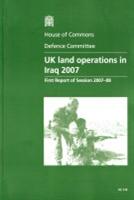 Add to Basket
'UK Land Operations in Iraq 2007 (HC 110)' considers recent developments in the political and security situation in Iraq, the prospects for political reconciliation at national and local level, and the progress in implementing security sector reform, including the development of the Iraqi Army and Police as well as the transition of Basra to Provincial Iraqi control. It also examines the changing role of UK Forces in South Eastern Iraq as they prepare to hand over responsibility for security and assume the position of overwatch. The report therefore examines what overwatch means and whether the force levels proposed by the Government are sustainable.
The Committee concludes that the security situation continues to cause concern and that, although there has been a decrease in attacks against UK and Coalition forces since the withdrawal from Basra Palace, there has been no reduction in attacks against the civilian population. The development of effective Iraqi Security Forces is fundamental and, although there has been progress with the army, there are still murderous, corrupt, militia-infiltrated elements within the Police.
It is unclear how the trainers will be supported when the UK force levels are further reduced. The plan is to reduce to 2,500 troops in the spring but there are questions about the sustainability of a force of this size and whether they will be able to do little more than protect themselves.