Departmental Reports
Show me:
Spending Round 2013
Cm. 8639
Author:

HM Treasury

Publisher:

TSO (The Stationery Office)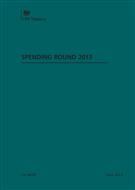 Add to Basket
The Treasury report 'Spending Round 2013 (Cm. 8639)' outlines the Government's economic plans in three main parts: keeping mortgage rates low for families and fixing the banks to support investment in business; dealing with the country's debts to maintain confidence in the UK's ability to pay its way; and long-term economic reform to back aspiration and equip Britain to win the global race.
The Government will continue to reduce the deficit by taking difficult decisions to cut public spending and prioritise investment in infrastructure to deliver a stronger economy and fairer society.
Bbecause spending reductions since 2010 have been accompanied by reforms to how services are delivered, crime is at its lowest level in 30 years, school standards have risen and employment is at record levels.
The Government will reduce current spending by £11.5 billion in 2015-16, allowing it to increase capital spending plans by £3 billion a year from 2015-16 and by £18 billion over the next Parliament. Without the £3.6 billion savings from the welfare budget in 2015-16 that were announced in the Autumn Statement 2012, reductions in departmental spending would have been commensurately higher.
The Government will protect spending on health, schools and overseas development to maintain the vital public services that everyone relies on at home, while also continuing to support the poorest overseas.