Departmental Reports
Show me:
Review Of The Monetary Policy Framework
Cm. 8588
Author:

HM Treasury

Publisher:

TSO (The Stationery Office)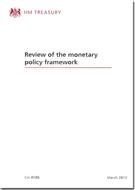 Add to Basket
The paper 'Review Of The Monetary Policy Framework (Cm. 8588)' reviews the performance of the UK's flexible inflation targeting framework against the internationally-accepted monetary policy objective of price stability, a pre-requisite to longer-term growth and macroeconomic stability.
Chapters cover the historical and international context, monetary policy frameworks and monetary policy instruments and gives the Monetary Policy Committee's (MPC) revised remit at Budget 2013.
The Government has retained a flexible inflation target framework. The inflation target of 2%, as measured by the 12-month increase in the Consumer Prices Index (CPI), is re-affirmed. The remit has been updated to clarify the trade-offs that are involved in setting monetary policy to meet a forward-looking inflation target, and in forming and communicating its judgements the MPC should promote understanding of these trade-offs.
The remit continues to require an exchange of open letters between the Governor of the Bank of England and the Chancellor of the Exchequer if inflation moves away from the target by more than one percentage point in either direction. The open letter from the Governor should now be sent alongside the minutes of the MPC meeting that followed the publication of the CPI data.
The remit requests that the MPC provides in its August 2013 inflation report an assessment of the merits of using intermediate thresholds - policy commitments conditional on future economic developments.
The remit also reflects the Government's intention that the frameworks for monetary policy and macro-prudential policy, operated by the MPC and FPC (Financial Policy Committee) of the Bank of England respectively, should be coordinated.