Bills
Show me:
Cities and Local Government Devolution Bill [HL]
HLB 1
Author:

House of Lords

Publisher:

TSO (The Stationery Office)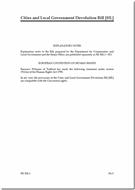 Add to Basket
The 'Cities and Local Government Devolution Bill [HL] (HLB 1)' is intended to support delivery of the Government's manifesto commitment to devolve powers and budgets to boost local growth in England. In particular, the Bill focuses on the commitment to devolve far reaching powers over economic development, transport and social care to large cities which choose to have elected mayors and legislate to deliver the historic deal for Greater Manchester.
The Bill enables legislation which provides a legislative framework which can be applied flexibly to different areas by secondary legislation.
Secondary legislation will be enabled by the Bill to:
provide for an elected mayor for the combined authority's area who would exercise specified functions individually and chair the authority;

provide for the possibility for the mayor additionally to undertake the functions of Police and Crime Commissioner for the combined authority area;

where a mayor is to have Police Commissioner functions, cancel Police and Crime Commissioner elections that would otherwise have taken place and allow the current Police and Crime Commissioner's team to be extended until the mayor is in place;

remove the current statutory limitation on functions that can be conferred on a combined authority (currently economic development, regeneration, and transport); and

provide for streamlined local governance as agreed by councils.
Find similar publications here: