Accounts
Show me:
Draft Pensions Bill
Cm. 8529
Author:

Department for Work & Pensions (DWP)

Publisher:

TSO (The Stationery Office)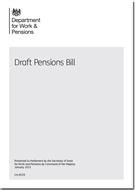 Add to Basket
'Draft Pensions Bill (Cm. 8529)' contains provisions to introduce a single-tier pension for future pensioners, which will replace the current two component State Pension (basic State Pension and additional State Pension) with a single component flat-rate pension set above the basic level of means-tested support.
The reforms outlined will modernise the state pension system to reflect the lives and contributions of today's working age people, whilst ensuring the system is sustainable for future generations.
Provisions of the draft Bill include:
a more structured framework within which to consider changes to the State Pension age in the future, as life expectancy continues to rise;

measures to reform the current suite of Bereavement Benefits through the introduction of Bereavement Support Payment, which will support people through the difficult early months in a more transparent way;

clarification on existing legislation relating to private pensions and automatic enrolment or the Pensions Regulator; and

encouragement for individuals to transfer a cash equivalent value of their accrued rights, from a Defined Benefit scheme to an alternative arrangement.
Explanatory notes are also included, providing an outline of the effect of each clause in the draft Bill.
Find similar publications here: