Accounts
Show me:
Economic And Fiscal Outlook March 2015
Cm. 9024
Author:

Office for Budget Responsibility (OBR)

Publisher:

TSO (The Stationery Office)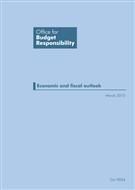 Add to Basket
Since the last forecast in December 2014 there have been a number of developments affecting prospects for the UK economy and public finances both positively and negatively; 'Economic and Fiscal Outlook: March 2015 (Cm. 9024)' considers these developments and how they may affect the UK's future economic outlook.
Since the end of 2014 the UK has experienced:
a further big fall in oil prices;

an unexpectedly large increase in net inward migration;

further falls in market interest rates;

another disappointing quarter for productivity growth;

downward revisions to estimates of economic growth in 2014; and

downward revisions to the outlook for the world economy.
The Coalition Government's policy decisions in this Budget are not expected to have a material impact on the economy. For the public finances, they ensure that net borrowing is lower every year to 2018-19 than in the OBR's last forecast, that the new fiscal mandate is met with room to spare in 2017-18, that public spending as a share of GDP no longer falls to a post-war low in 2019-20, and that the debt-to-GDP ratio falls a year earlier in 2015-16.
The Government has achieved this by tightening the assumed squeeze on total spending through to 2018-19, dropping the cut in spending as a share of GDP it had pencilled in for 2019-20 and announcing the sale of an additional £20 billion in financial assets next year.
This leaves a rollercoaster profile for implied public services spending through the next Parliament: a much sharper squeeze on real spending in 2016-17 and 2017-18 than anything seen over the past five years followed by the biggest increase in real spending for a decade in 2019-20. Real GDP grew by 0.5% in the final quarter of 2014, slightly weaker than the OBR expected in December.
On the OBR's central forecast, the Government is on track to meet its new fiscal mandate with £16.8 billion to spare. This implies a 65% probability of success given the accuracy of past forecasts. Achieving the mandate with this margin depends heavily on cuts in public spending - particularly on public services and administration.
Find similar publications here: