Accounts
Show me:
Economic And Fiscal Outlook December 2014
Cm. 8966
Author:

Office for Budget Responsibility

Publisher:

TSO (The Stationery Office)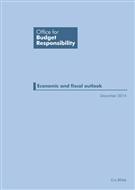 Add to Basket
'Economic And Fiscal Outlook December 2014 (Cm. 8966)' reports that this year has seen a sharp fall in the amount of tax raised for every pound of measured economic activity; therefore despite strong economic growth, the budget deficit is expected to fall by only £6.3 billion this year - to £91.3 billion.
Key findings of the report include:
GDP has increased more strongly than expected leading to increased forecasts for growth in calendar years 2014 and 2015, but forecasts for global GDP and trade growth have been revised down.

Inflation forecast has also been revised down due to lower-than-expected outturns and effects of lower oil and food prices; and it is now expected that CPI inflation will remain below the Bank of England's 2% target until 2017.

Meaningful real wage growth is expected to resume in 2015 but much is reliant on the uncertain timing and strength of the return to sustained productivity growth.

Public sector net borrowing is expected to fall by 0.6% of GDP this year - reaching 5%.

Receipts have been revised down by £7.8 billion in 2014-15 rising to £25.3 billion by 2018-19.

Public spending has been revised down £2 billion in 2014-15, and by £7.7 billion in 2015-16 - projecting a total public spending fall to 35.2% of GDP in 2019-20.
In this outlook economy and fiscal forecasts are not fully consistent, largely because after the economy forecast had been closed, the Government allocated £1.2 billion of spending from the reserve to the NHS in 2015-16, and changed its total spending assumption in a way that added around £2 billion a year to spending from 2016-17.
Find similar publications here: