Select Committees
Show me:
Science In Emergencies: UK Lessons From Ebola
HC 469, Second Report of Session 2015-16 - Report, Together with Formal Minutes Relating to the Report
Author:

House of Commons - Science and Technology Committee

Publisher:

TSO (The Stationery Office)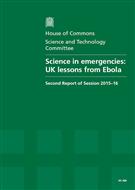 Add to Basket
The report 'Science In Emergencies: UK Lessons From Ebola (HC 469)' examines the UK's response to the largest Ebola outbreak ever recorded.
The Committee commends the Government on its leading contribution to the fight against Ebola, along with the financial and personnel commitments that it made; from constructing and staffing Ebola treatment centres in Sierra Leone to deploying troops, helicopters, aircrew and an aviation support ship to provide much needed logistical support.
Examples of UK successes in tackling Ebola, however, must not allow complacency to set in. Despite this impressive deployment of resources to combat Ebola in Sierra Leone, the UK response, like the international response, was undermined by systemic delay.
The biggest lesson that must be learnt from this outbreak of Ebola is that even minor delays in responding cost lives; yet delays were evident at every stage of the UK's response, from escalating Public Health England's disease surveillance data to those with the capacity to act, to convening a Scientific Advisory Group for Emergencies which failed to be established until October 2014, three months after 'Cobra', the Government's emergency response committee, first met.
In the absence of established mechanisms, ad hoc approaches emerged to fill the gaps. Inevitably, these were not as effective, or as targeted, as they should have been.
Find similar publications here: