Select Committees
Show me:
Farmgate prices: third report of session 2015-16 report, together with formal minutes relating to the report
House of Commons papers 474 2015-16
Corporate Author:

Great Britain Parliament House of Commons Environment, Food and Rural Affairs Committee

Author:

Neil Parish (chair)

Publisher:

TSO (The Stationery Office)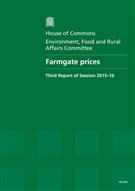 Add to Basket
Farming and food are a fundamental part of the UK economy, worth more than 100 billion pounds a year and supporting one in eight jobs. Over the last few years, volatility in the prices paid to farmers for their produce has caused significant difficulty to the farming industry. In the twenty-first century, the agricultural economy cannot be considered in isolation, but must be seen in the context of global opportunities and threats. Increased production has occurred during a period of falling demand for UK and European products. While the global market will make it difficult for any one Government to significantly impact prices, it can play a facilitation role in enabling the agricultural industry and retailers to work together to secure an economically sustainable future. The agricultural industry has a significant responsibility for its own future and is generally better placed than the Government to lead change and build a strong resilient industry in the UK. While most farmers are sole traders, they must recognise and utilise the power they have in working together.
Find similar publications here: