Select Committees
Show me:
Post-study work schemes: fourth report of session 2015-16 report, together with formal minutes relating to the report
House of Commons papers 593 2015-16
Corporate Author:

Great Britain Parliament House of Commons Scottish Affairs Committee

Author:

Pete Wishart (chair)

Publisher:

TSO (The Stationery Office)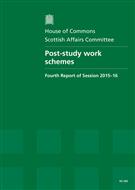 Add to Basket
The Scottish Affairs Committee has published a report calling for reform to visa rules for non-EU students studying in Scotland who wish to remain in the UK to work after their studies. In their report the Committee have found that current rules for students studying here to remain in Scotland are too restrictive and are preventing businesses from finding skilled workers. Scotland faces different demographic challenges to the rest of the UK, with a much lower birth rate and significant skills gaps in the workforce. Sectors, such as health, energy and finance face particular problems in recruiting skilled graduate workers. The Committee found that the closure of the Tier 1 (Post-Study Work) visa in 2012, has harmed Scotland by making Scotland less competitive in the global education market, with other nations able to offer prospective students greater employment opportunities after graduation. Closing this visa has also prevented Scotland from making use of a pool of skilled workers, educated in Scotland, who could help mitigate Scotland's demographic challenges. Since the Post-Study Work visa was closed in 2012 the number of non-EU students remaining in the UK after graduating has fallen by 80%.
Find similar publications here: