Select Committees
Show me:
Psychoactive substances: first report of session 2015-16 report, together with formal minutes relating to the report
House of Commons papers 361 2015-16
Corporate Author:

Great Britain Parliament House of Commons Home Affairs Committee

Author:

Keith Vaz (chair)

Publisher:

TSO (The Stationery Office)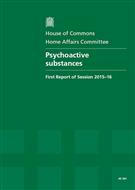 Add to Basket
New psychoactive substances (NPS), more commonly and inappropriately referred to as 'legal highs', is an umbrella term for products intended to mimic the effects of controlled drugs. The 'legal highs' market is characterised by the speed with which suppliers circumvent drug controls by offering new alternatives to restricted products and advertise them with aggressive and sophisticated marketing strategies (as air fresheners, herbal incenses, bath salts, plant fertilisers, collectors' items etc.). The term 'legal high' is also a successful marketing instrument in and of itself, as it implies that these substances are not as dangerous as controlled drugs, thus boosting their popularity and sales. Substances presented as 'legal highs' often also include controlled drugs.
Find similar publications here: