Select Committees
Show me:
The Future Of Devolution After The Scottish Referendum
HC 700, Eleventh Report of Session 2014-15 - Report, Together with Formal Minutes Relating to the Report
Author:

House of Commons - Political and Constitutional Reform Committee

Publisher:

TSO (The Stationery Office)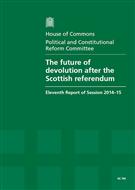 Add to Basket
Proposals for devolutionary change in Scotland, Wales, Northern Ireland and England have been made at what appears to be dizzying speed since the Scottish referendum result in September 2014; the report 'The Future Of Devolution After The Scottish Referendum (HC 700)' considers what these developments mean for the future of devolution across the United Kingdom.
The Committee finds that the settlements for future devolution have been approached in a bilateral fashion, and without much consideration of what each means for the future of the Union as a whole.
Scottish devolution has been able to move further and faster because many of the key issues had already been debated fully during the referendum campaign. Nevertheless the implications of further transfers of powers for the Union as a whole must be fully taken into account.
While the political commitments made on the implementation of further devolution for Scotland should be honoured in full, and to the timescale envisaged, the rushed process of the Smith Commission Agreement cannot substitute for a full deliberation on the constitutional future of all elements of the United Kingdom.
Amongst other recommendations, the Government should establish, in the first six months of the new Parliament, a commission to review proposals for further devolution within England and to reach agreement on a suite of powers which local authorities can draw down where they can demonstrate demand and popular support.
A Convention for England, with broad popular representation from the public and civil society, could examine the relationship between England and the United Kingdom and develop a process for further agreed devolution from the centre, to regions and localities.
Find similar publications here: