Select Committees
Show me:
Inspection In Home Affairs And Justice
HC 975, Fifty-third Report of Session 2014-15 - Report, Together with Formal Minutes Relating to the Report
Author:

House of Commons - Committee of Public Accounts

Publisher:

TSO (The Stationery Office)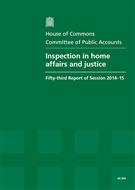 Add to Basket
Current arrangements for appointing Chief Inspectors and for setting their budgets potentially pose a significant threat to their independence, says the report 'Inspection In Home Affairs And Justice (HC 975)'.
Chief Inspectors are reliant for their appointment, the length of their tenure and the size of their budgets on the very same Ministers who are responsible for the sectors they inspect. There is a risk that Departments could use these controls over inspectorates as levers to influence Chief Inspectors. The Chief Inspectors said that they did not believe the independence of how they conducted inspections was in doubt. However the Cabinet Office needs to conduct a full review of all arrangements for Chief Inspectors.
Particularly shocking was the Ministry of Justice's mishandling of an entirely foreseeable conflict of interest in its appointment of Paul McDowell - whose wife held a senior position in Sodexo Justice Services. The independence of the Chief Inspector of Borders and Immigration is also undermined by the fact that the Home Secretary now decides when to publish his reports.
Since the Home Secretary took control of publishing the Chief Inspector's reports there have been significant delays, which can undermine genuine accountability by blunting the impact of reports. Inspectorates are not held to account, with no formal requirements for inspectorates to demonstrate their impact and effectiveness.
The Chief Inspectors accepted that they needed to do more to follow-up and make sure their recommendations were implemented by inspected bodies. Inspectorates need to do more to exploit their findings and do more to learn from each other.
Find similar publications here: