House of Commons Papers
Show me:
Follow-Up To PHSO Report: Dying Without Dignity
HC 432, First Report of Session 2015-16 - Report, Together with Formal Minutes Relating to the Report
Author:

House of Commons - Public Administration and Constitutional Affairs Committee

Publisher:

TSO (The Stationery Office)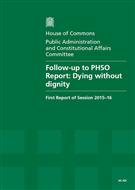 Add to Basket
Failings in the care provided to people as they approach the end of their life can result in needless pain and suffering. 'Follow-Up To PHSO Report: Dying Without Dignity (HC 432)' follows up on the Parliamentary and Health Service Ombudsman report 'Dying Without Dignity', which identified systemic issues affecting the quality and delivery of end of life care and used case studies to show how patients and those close to them had been affected by poor care.
The Committee welcomes the report, which concluded that the NHS needed to improve in a number of areas and recommended that the report's findings be used to inform a new approach to end of life care. Witnesses told the Committee that they were aware of the issues raised in the report and that the focus must now be on implementing change, and the Committee agrees. Good quality, timely and compassionate care should be available to all those who need it at the end of their life.
The report outlines the key areas in which we expect to see significant and fast-paced improvements. These are:
(i) Culture, behaviour and training;
(ii) The provision of integrated, 24/7 palliative and End of Life Care (EOLC) services; and
(iii) Leadership and commissioning.
Find similar publications here: