Police & Criminal Law
Show me:
Acquisition and Disclosure of Communications Data: Code of Practice
Author:

Home Office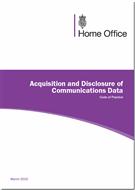 Add to Basket
This code of practice relates to the powers and duties conferred or imposed under Chapter 2 of Part 1 of the Regulation of Investigatory Powers Act 2000 relating to the acquisition of communications data by public authorities and its disclosure by communications service providers. This code has been updated in 2015, following the passage of the Data Retention and Investigatory Powers Act 2014 and the Data Retention Regulations 2014.
It provides guidance on the procedures to be followed for the acquisition of communications data and describes communications data. It sets out rules for the grant of authorisations to acquire data, the giving of notices to require disclosure of data and the keeping of records, including records of errors.
This code is aimed at members of public authorities who are involved in the acquisition of communications data whether as an applicant, a single point of contact, a designated person or a senior responsible officer and to communications service providersí staff involved in the lawful disclosure of communications data.
Further details regarding the retention of communications data can be found in the Retention of Communications Data Code of Practice.
Find similar publications here: