Police & Criminal Law
Show me:
Police and Criminal Evidence Act 1984 (PACE) - CODE E - Revised 2013
Code of Practice on Audio Recording Interviews with Suspects
Author:

Home Office

Publisher:

TSO (The Stationery Office)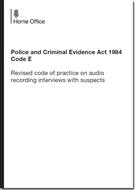 Add to Basket
The Police and Criminal Evidence Act (PACE) and its Codes of Practice are a vital part of the legislative framework that lays out police powers for combating crime.
PACE Code E details the audio recording of interviews with suspects in the police station and applies to interviews carried out on or after 27 October 2013.
This Code of Practice must be readily available at all police stations for consultation by police officers, police staff, detained persons and members of the public.
If you're interested in this, you might also be interested in...
Find similar publications here:

Show all Subjects & Categories