Conduct And Competition In SME Lending
HC 204, Eleventh Report of Session 2014-15 - Report, Together with Formal Minutes Relating to the Report
Author:

House of Commons - Treasury Committee

Publisher:

TSO (The Stationery Office)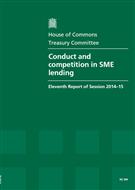 Add to Basket
The report 'Conduct And Competition In SME Lending (HC 204)' examines the Small and Medium sized Enterprises (SMEs), which form a large part of the UK economy.
According to official statistics, there were 5.243 million private sector businesses at the start of 2014. 5.236 million had 0-250 employees and are classed as SMEs, of which 5.204 million had fewer than 50 employees and are classed as small businesses.
SMEs account for 60% of all private sector employment, and registered an annual turnover of £1.6 trillion at the start of 2014 - 47% of the private sector total. A large majority of SMEs are sole traders - 76% of all businesses are non-employers.
The Government believes that access to finance for SMEs is 'key to the recovery and long term growth of the economy'. Research by National Endowment for Science, Technology and the Arts (NESTA) in 2009 found that the '6% of UK businesses generated half of the new jobs created by existing businesses between 2002 and 2008.
This report offers a number conclusions and recommendations covering:
the state of the SME lending market;

RBS Global Restructuring Group (GRG);

mis-sale of Hedging Products; and

alternative finance
Find similar publications here: