The UK's EU Budget Contributions
HC 891, Tenth Report Session 2014-15 - Report, Together with Formal Minutes Relating to the Report
Author:

House of Commons - Treasury Committee

Publisher:

TSO (The Stationery Office)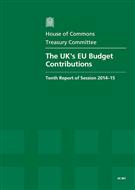 Add to Basket
The report 'The UK's EU Budget Contributions (HC 891)' examines increases in the UK's EU budget contributions in 2014.
On 17 October 2014, the European Commission informed HM Treasury that the UK would have to make an additional contribution to the EU budget of approximately 2.1 billion Euros. This additional contribution had been prompted by revisions to EU Member States' historic Gross National Income (GNI) data, dating back to 1995.
Member States make several annual contributions to the EU budget, by far the most significant being a levy on GNI. This levy is charged as a percentage rate on Member States' annual GNI, with the rate set at a level designed to cover exactly the portion of the EU Budget which remains unfunded once the other sources of income, namely 'Traditional Own Resources' and VAT-based resources, have been taken into account. The result is that an individual Member State contributes to this portion of the budget in proportion to its share of total GNI across all Member States.
In 2013, GNI-based contributions amounted to 74% of the EU's total budget. Emerging from the ECOFIN summit of 7 November 2014, the Chancellor claimed to have halved the bill of £1.7 billion demanded by the EU. He later described this as the result of hard fought negotiation with the Commission to ensure that the consequential change to the UK's rebate would apply.
The calculation of the rebate, and the circumstances in which it applies, are embedded in EU law. This is set out in detail in Council Decision 2007/436/EC and the supporting Council document on the UK correction. These documents establish the precise method for calculating the rebate.
On the basis of the evidence the Committee has seen, it should have been unambiguously clear to HM Treasury, well in advance of ECOFIN on 7 November 2014, that the UK was entitled to a rebate on any additional budget contributions that could arise from the GNI revisions.
Find similar publications here: