Our Borderlands - Our Future
HC 556, Second Report of Session 2014-15 - Report, Together with Formal Minutes Relating to the Report
Author:

House of Commons - Scottish Affairs Committee

Publisher:

TSO (The Stationery Office)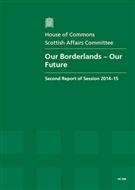 Add to Basket
The Scottish Affairs Committee held informal seminars in Galashiels, Peebles and Dumfries, in May and June 2014, in order to identify the key issues facing businesses, communities and individuals in the south of Scotland; the report 'Our Borderlands - Our Future (HC 556)' examines the issues which were identified in more detail.
Several of the issues raised in the meetings focused on the social and economic needs of the residents of the south of Scotland, many of which related to devolved functions which are the responsibility of the Scottish Government. However, some crucial issues were raised which were a direct consequence of the policies and responsibilities of the UK Government, specifically for example, in relation to employment issues.
The inquiry will seek to examine the bigger picture, and to address two central questions:
i) Are the current structures working as effectively as they could for the benefit of the people of the south of Scotland?
ii) How can the UK and Scottish Governments work together with Local Authorities to deliver appropriate and effective policies to support economic development and growth in the south of Scotland?
This document sets out the specific terms of reference for the inquiry, raising questions and issues on which the Committee would welcome written evidence.
Find similar publications here: