UK Support For Humanitarian Relief In The Middle East
HC 248, First Report of Session 2014-15
Author:

House of Commons - International Development Committee

Publisher:

TSO (The Stationery Office)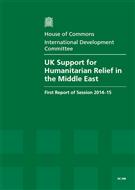 Add to Basket
The report 'UK Support For Humanitarian Relief In The Middle East (HC 248)' examines the UK's humanitarian relief to the Middle East, which is critical to long term stability in the region; the UK can be proud that it has already committed £600 million in humanitarian assistance to the grave refugee crisis that has arisen from the Syrian civil war, and is currently the second-largest bilateral donor to that relief effort.
It is lamentable that some other European nations have so far manifestly failed to pull their weight in the Syrian refugee crisis, and the UK should do more to secure significant contributions from other large EU nations. The overwhelming emphasis of UK funded humanitarian relief should be able to help refugees remain in their own region, so that they have the potential to return home when this becomes possible.
The bulk of humanitarian effort in the region should shift away from a focus on refugee camps to providing support for the majority of Syrian refugees who are currently residing in towns and villages in Lebanon or Jordan. This is something many donors remain reluctant to do; the UK must lead the way. To that end the Department For International Development (DFID) should use national plans as the basis for its assistance to Lebanon and Jordan, as well as launching a medium-term development programme in Jordan.
A clear priority must be given to the urgent provision of education for Syrian refugee children to avoid the risk of a lost generation. The Committee also calls on DFID to become far more transparent about how much contingency funding it sets aside for responses to new humanitarian crises.
Find similar publications here: