The Referendum On Separation For Scotland: Scotland's Membership Of The EU
HC 1241, Twelfth report of Session 2013-14 - Report, Together with Formal Minutes
Author:

House of Commons - Scottish Affairs Committee

Publisher:

TSO (The Stationery Office)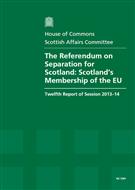 Add to Basket
Today Scotland's interests in the European Union are represented by the UK which, as one of the largest Member States, has the voting power and leverage to influence decisions to the benefit of Scotland; the report 'The Referendum On Separation For Scotland: Scotland's Membership Of The EU (HC 1241)' warns that by leaving the UK, a separate Scotland would lose this advantage.
A separate Scotland is likely to have its application to join the EU accepted, but not within the self-imposed timetable of 18 months, nor with the terms that the Scottish Government is proposing. The proposal that Article 48 of the Treaty on European Union could be used to provide for Scottish membership is not supported by any other EU state; senior EU figures have ruled it out and it is opposed by the United Kingdom Government, which would have to initiate it.
The additional and exceptional demand for the ability to discriminate against UK students with respect to tuition fees would be voted against by the UK Government and is therefore almost certain not to be met. Furthermore, insufficient attention has been paid to the need to negotiate the UK's retention of VAT zero rating on a wide range of goods. As a separate Member State, not only would Scotland cease to benefit from the UK rebate, currently worth in the region of £300 million per year to Scotland, but it would have to contribute to it.
In these circumstances Scottish voters need a more realistic alternative perspective of how joining the EU would be achieved, and what its likely terms and timetable would be.
Find similar publications here: